Brunettes have always been the object of desires and fantasies for many men around the world. So it comes as no surprise that we often find brunette cartoon characters pretty sexy. If you've always had a bit of a crush on Esmeralda, Chel or Jasmine, you are not the only one. These cartoon babes are definitely hot as hell. In fact, there is a lot of fan art featuring popular cartoon brunettes in hot sex scenes, sucking cocks, or taking it up the ass. So today, we decided to bring you our top list of the hottest cartoon brunettes from a long list of animated movies and shows. Read on to find out who our top picks are. And if your favorite drawn black-haired babe is not on this list – don't worry. There is a second part of the top list – we're sure you'll find her there! Without further ado, here are our top ten sexy animated brunettes from a number of different cartoons.
10. Olive Oyl from Popeye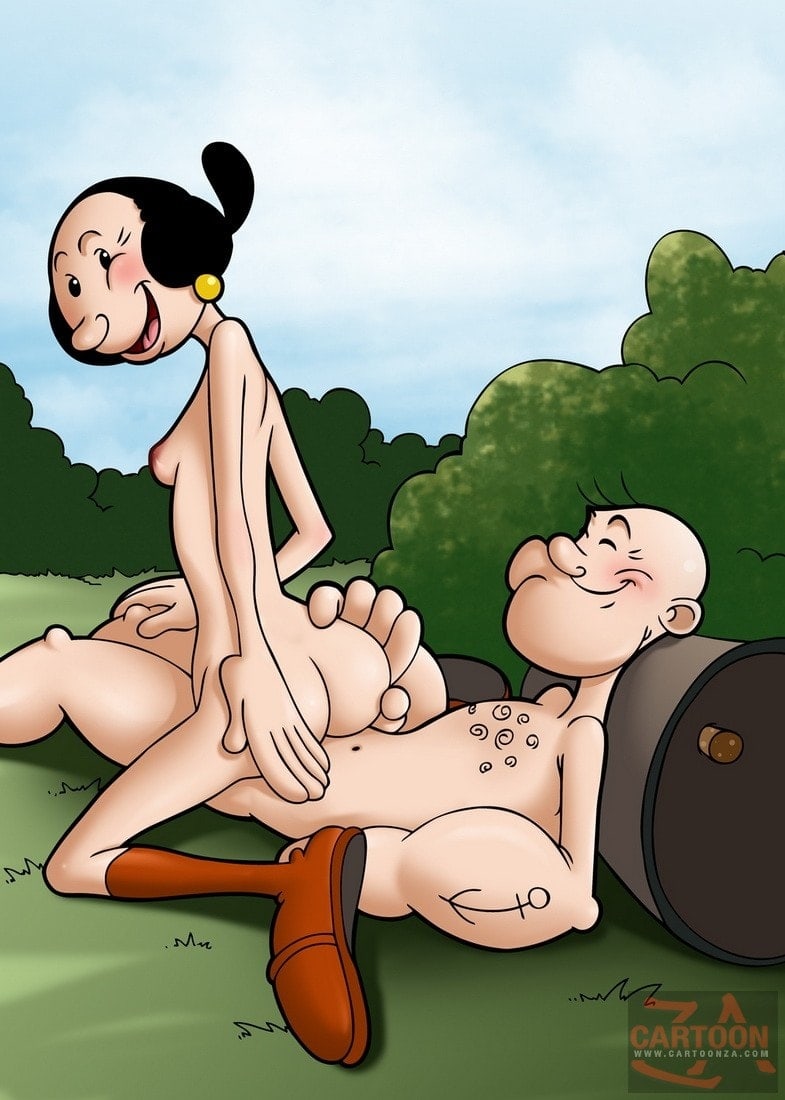 Olive Oyl is a petite young brunette with small tits and a romantic soul. This skinny babe looks and acts like she doesn't have a naughty bone in her body. However, as almost any seemingly innocent girl next door, Olive obviously has a hidden wild side to her. Just look at her riding Popeye's cock reverse cowgirl style with a big smile on her face! She's taking it deep and she's obviously enjoying feeling every inch of it in her tight white pussy.
9. Toot Braunstein from Drawn Together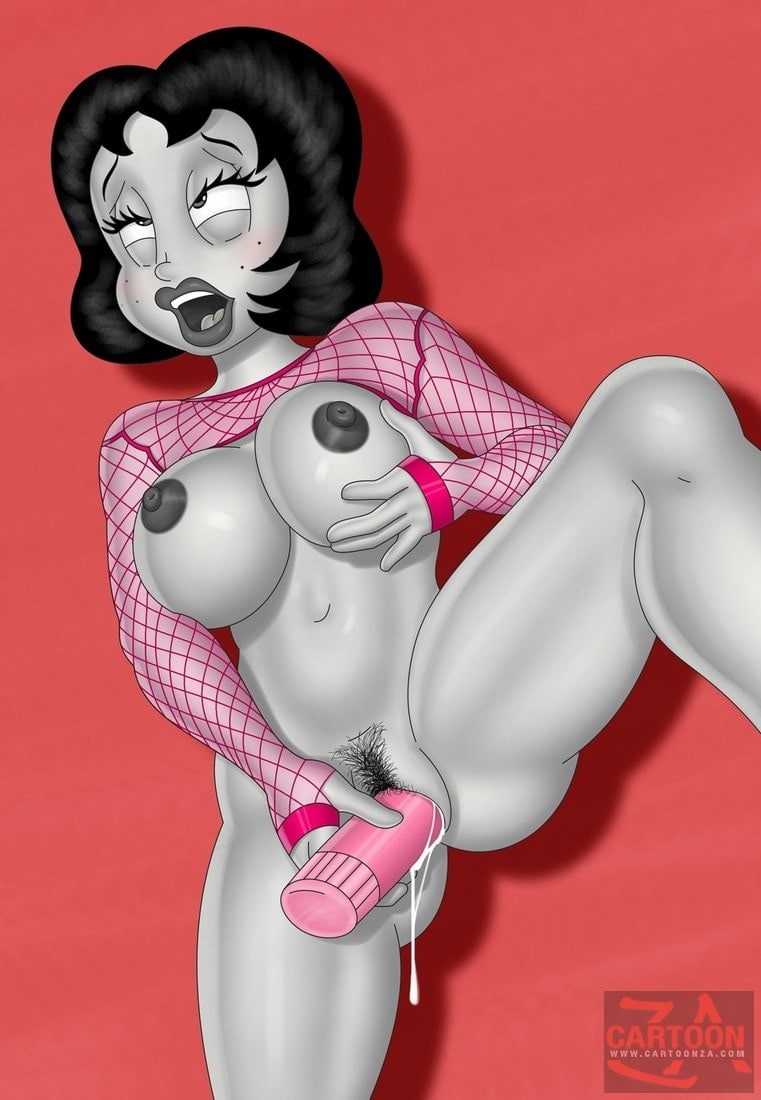 If Oliva is too skinny for you, perhaps Toot Braunstein will match your taste better. This thick babe loves her curves and isn't afraid to show them. The fiery 22-year-old pinup with big dark eyes used to be a sex symbol and it shows! Toot loves to eat, and we'd be more than happy to give her a treat. Take a look at Toot Bernstein as she spreads her thick thighs wide open and shoves a dildo up her tight pussy. She is playing with her tits as her eyes roll back and her pussy drips wet.
8. Cleopatra from Clone High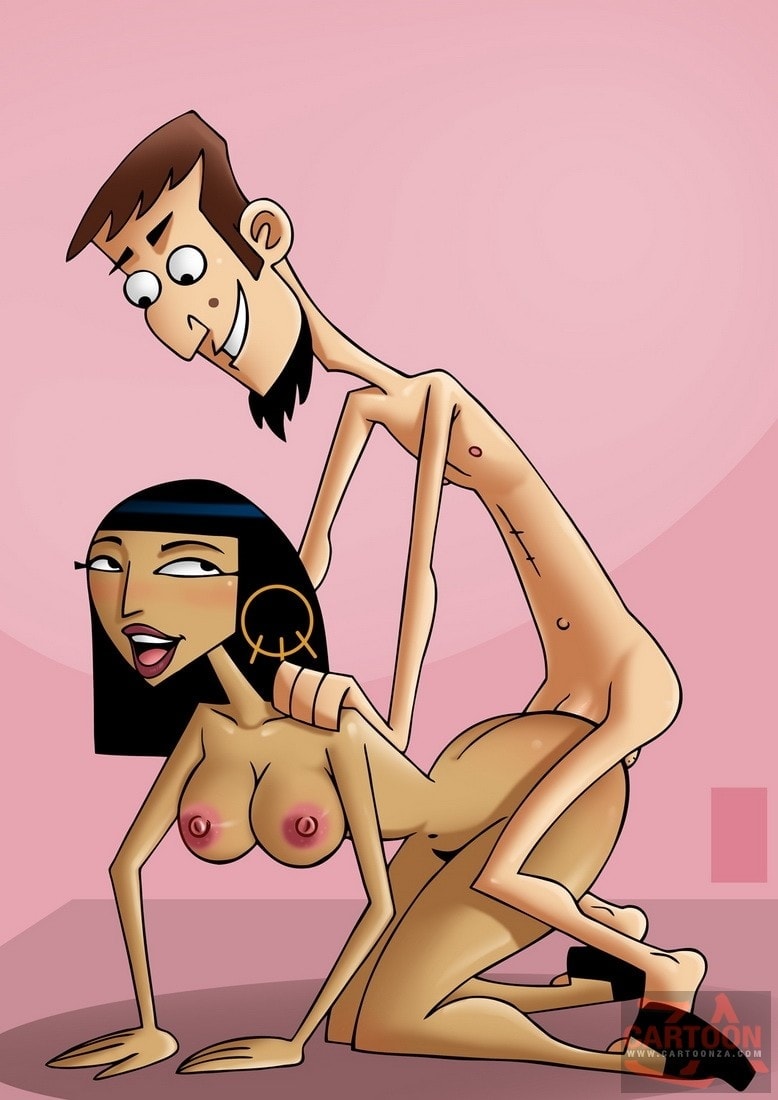 This cocky, naughty Cleopatra might not be the queen of Egypt, but she is her clone. This means we get to enjoy the best of both worlds – the body of the hot empress, and the mindset of a contemporary woman. She has a perfect hourglass figure, with her tiny waist, wide hips, and big boobs. The only thing she cares about is how she looks, and we can't say we blame her. And according to this piece of art, she also likes taking a cock doggy-style. What else could we possibly ask for?
7. Amy Wong from Futurama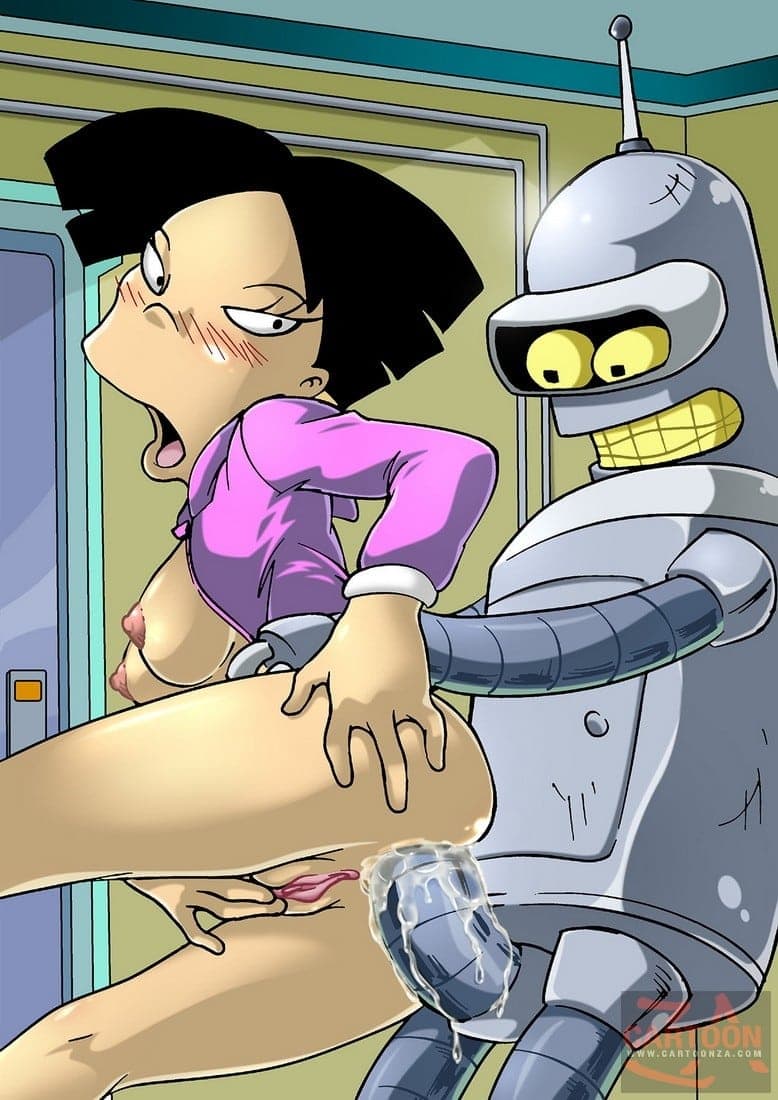 Amy Wong is a twenty-something-year-old university student with an endearing personality. Even more importantly, she has a really hot body. In fact, she is so sexy that, at one point in the show, she had to have surgery to reduce her good looks. In short, Amy is smart, kind, and hot – she is the whole package. And according to this drawing, she also likes taking dicks up her tight ass. When you take that into account, Amy Wong is simply irresistible!
6. Esmeralda from the Hunchback of Notre-Dame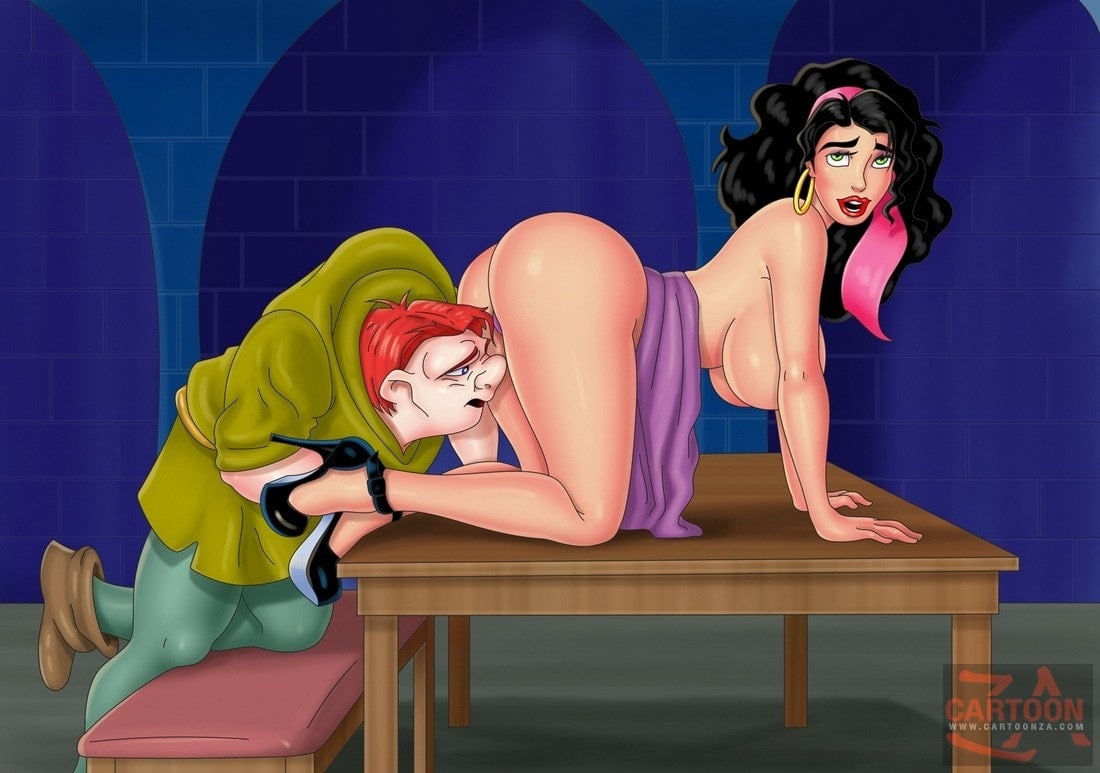 Esmeralda is a black-haired gypsy milf with a hot athletic body living in catacombs in Paris. Her big blue eyes and dark skin make her beauty almost exotic. She is a professional dancer, so it comes as no surprise that her body is so perfect. On top of that, she is also incredibly smart and fierce, which somehow makes her even hotter. In the picture, we can see her on all fours, showing off her big round ass, while her huge tits dangle all the way to her elbows.
5. Chel from The Road to El Dorado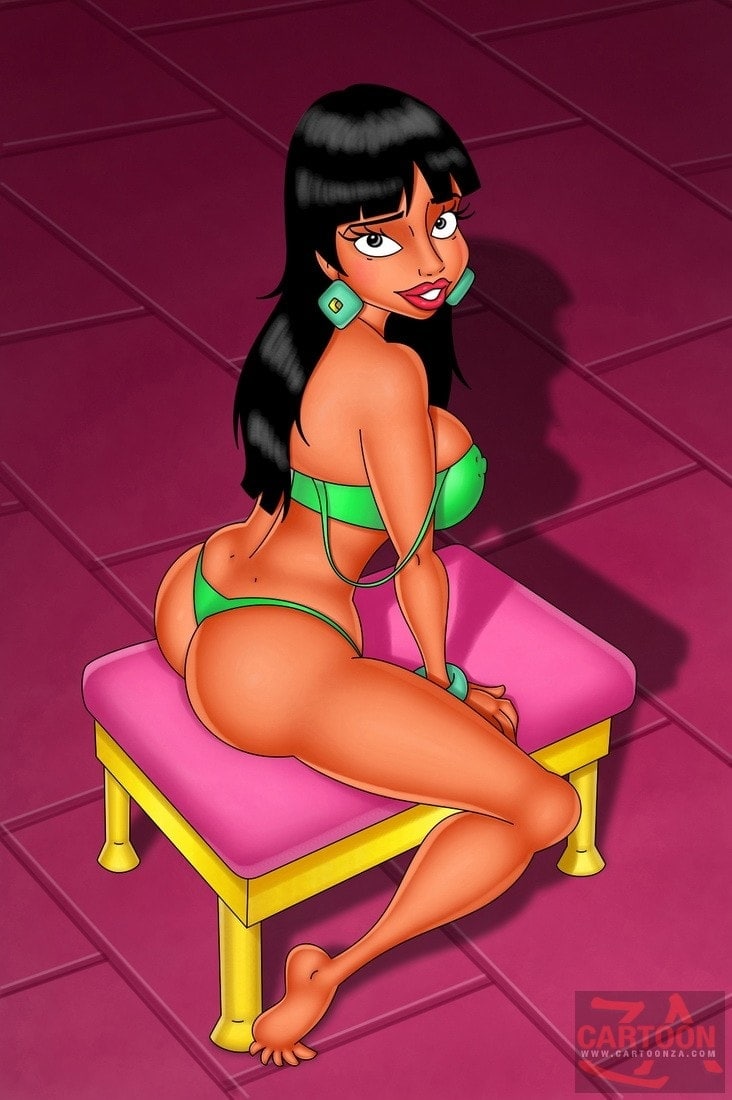 Chel isn't one of those cartoon characters that require imagination to make them hot. Her sex appeal is so strong she couldn't hide it even if she wanted to. This witty, mocha colored babe with catty eyes leaves little to imagination. She usually wears a modest piece of cloth that barely covers her tits and crotch. In this drawing, however, she is wearing a tight green bikini. She is spreading her legs wide, showing off her perfect bubble butt and looking at you seductively.
4. Malina from The Emperor's New School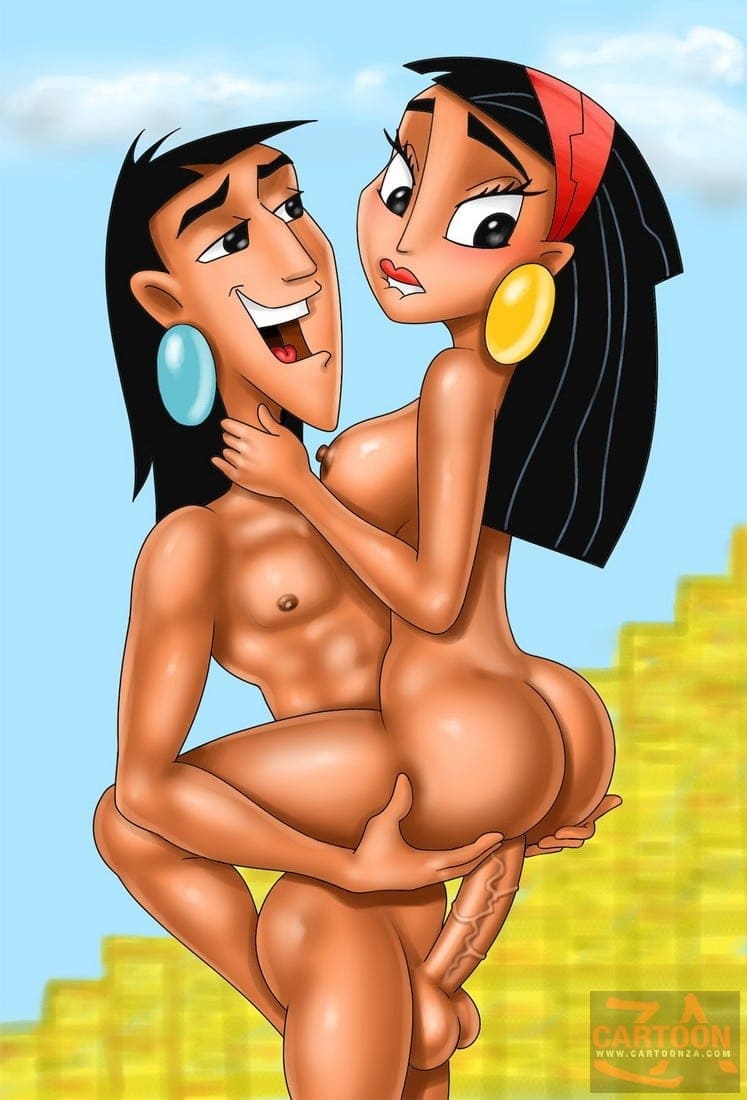 Malina is a cheerleader from The Emperor's New School show, usually shown wearing her school uniform and a hairband. She is very athletic and has a slender body and a cute face with big dark eyes. To top it all off, she is also pretty intelligent. It's no wonder she is so likable and attractive. In the drawing, she is pictured taking a huge cock up her tiny pussy while biting her lip. It seems that her petite body can barely take such a huge dick.
3. Alex from Totally Spies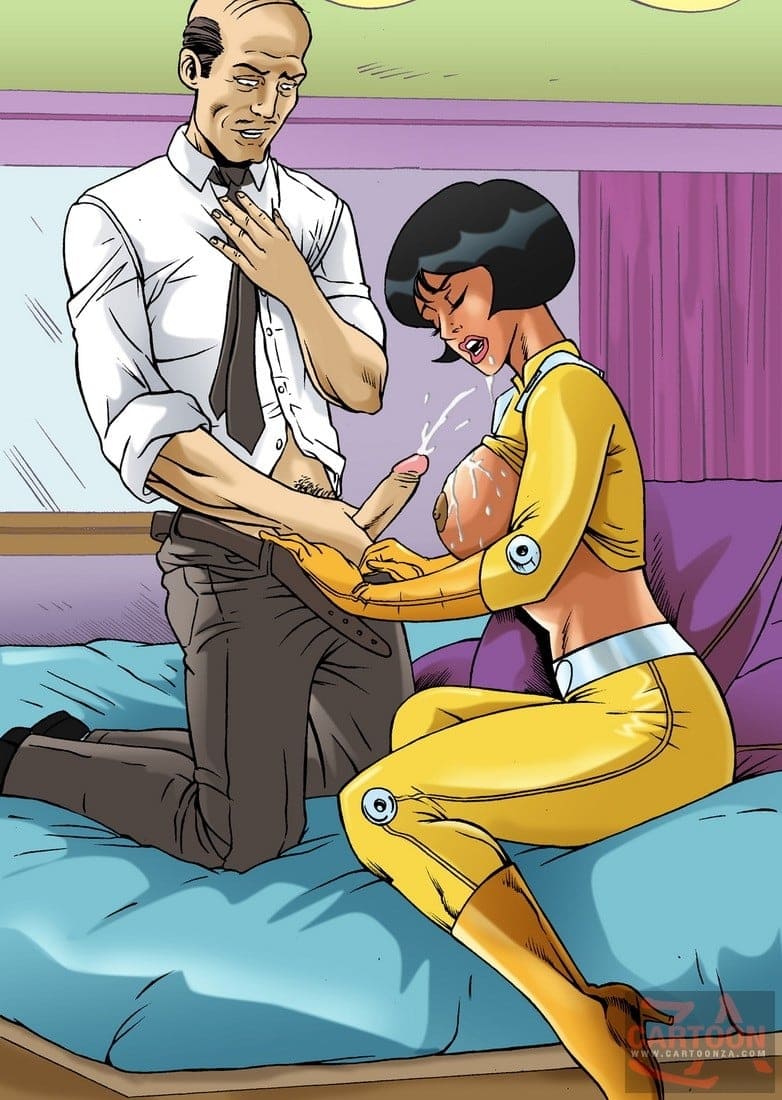 If we're being honest, all three girls from Totally Spies are crazy hot. But since this top list features only brunettes, we simply had to mention Alex. This ebony babe has short brown hair and chocolate-colored skin. She is slender and athletic, super flexible and strong. Whether she's wearing her yellow full body suit or her everyday outfits, we simply can't help but imagine her naked. Although she doesn't completely strip down in his drawing, she still reveals her huge tits while being showered with cum.
2. Hayley Smith from American Dad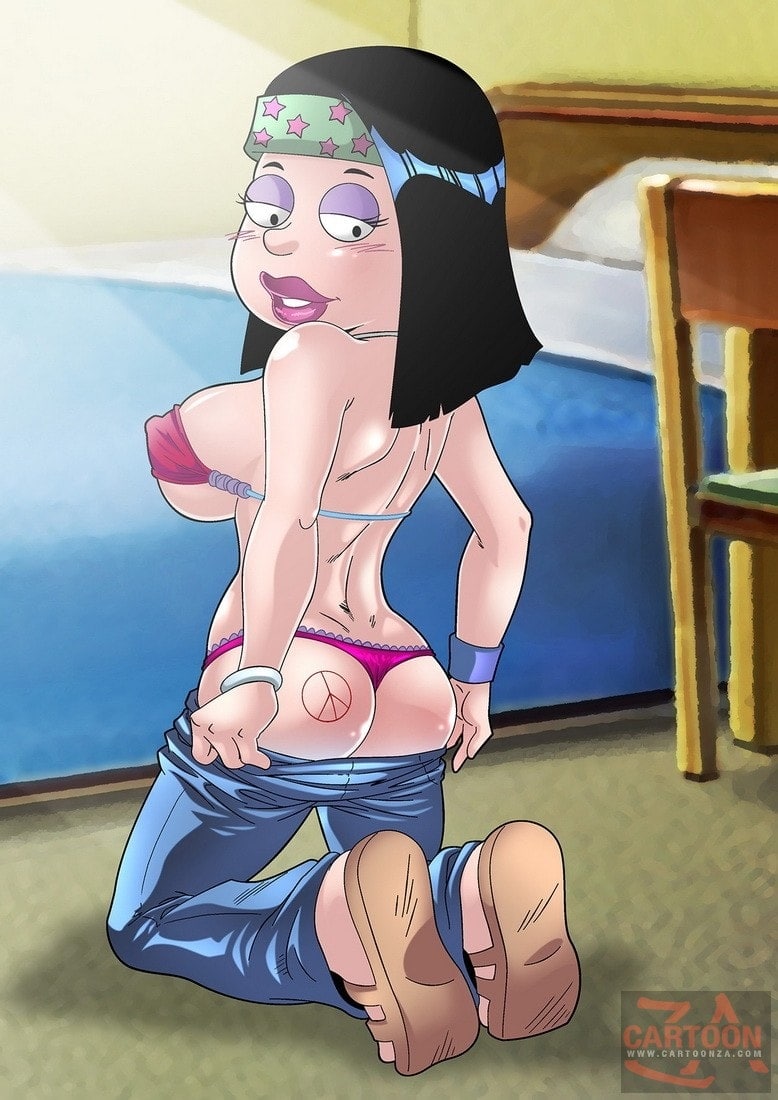 Hayley Smith is a 19-year-old brunette with a wild personality. Her naughty side really comes as no surprise to us. We have seen her have an affair with a number of different guys throughout the show. And in this drawing, we get to see her in some solo action as well. She is taking off her jeans, revealing a small tattoo of a peace sign on her ass cheek. Her tight bra can barely cover her huge boobs and her thong is pulled deep in between her cheeks.
1. Princess Jasmine from Aladdin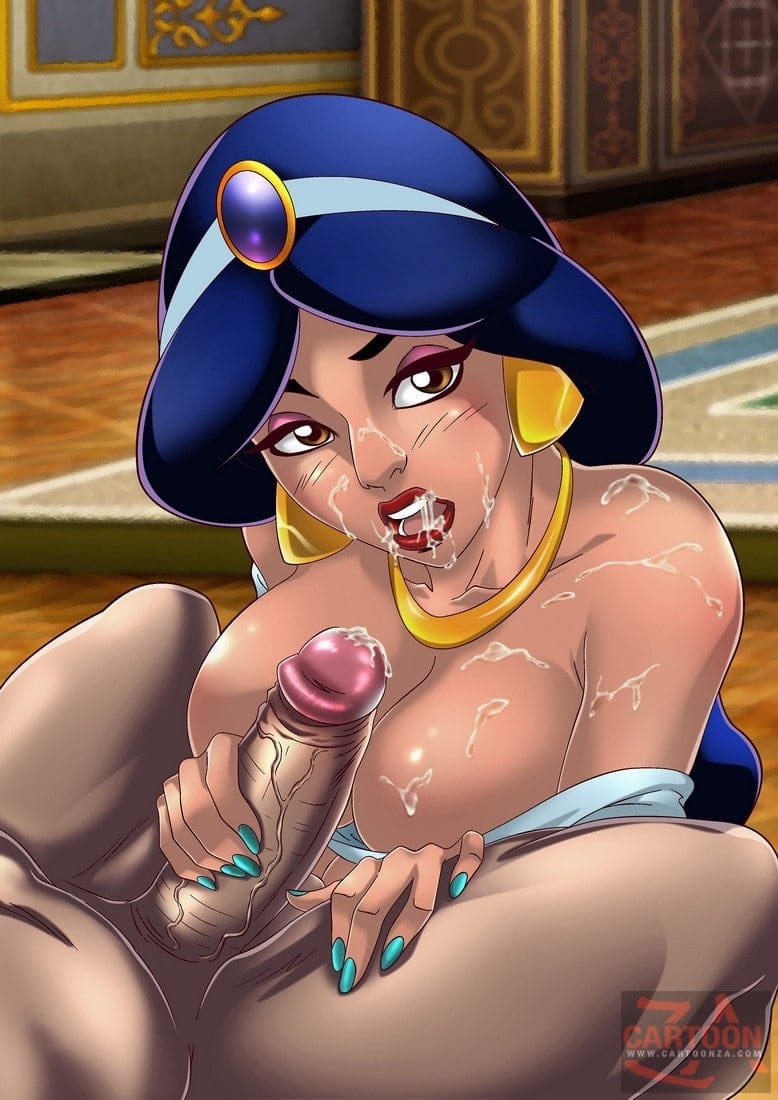 Princess Jasmine is featured on a number of our lists, and for a good reason. If you ask us, she is one of the hottest cartoon characters ever drawn. This oriental brown-haired beauty is simply too sexy not to take the first place on our list. Her dreamy eyes and tiny waist have been driving guys crazy ever since the cartoon came out. And in this drawing, we can see Jasmine's beautiful royal face and big boobs covered with a huge load of cum from a big cock.
Is your favorite hot cartoon brunette not on this list? Then check out part two of our top list to look for her there!